[Introduction]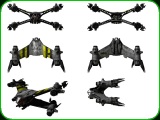 Starfury 5-View
For about 2 and a half years (since August of 1997) my V1.0 of the Earth Alliance Starfury has been available on the internet, and it's become pretty widely known and commonly used. The model seemed fine with me and accurate enough to the show for a long time, until more and more reference material (first of all the Babylon 5 Security Manual) showed me that the opposite was the case.
The small differences I could make out didn't justify remodeling it then, but steadily the number of differences added up and started to piss me off.
When recently a hump of original renderings was released through the B5MG I finally had the stuff I needed to improve the model enough to justify a completely new release.
[Status]
The mesh has been remodeled from scratch, and my intention was to make it as close as possible to the actual model by Foundation Imaging. The mesh is completely finished by now and is also fully textured.
The Cockpit exists in 2 different version (one extremely detailed, recreating the actual cockpit set created in the studios to shoot the cockpit scenes for the show - and a 1 polygond solution with a rendering of the cockpit applied), but only the low detail version comes with the 1st release.
The model is set up in several seperate object files, to make adding modifications easier, and prevent you from having multiple copies of the entire mesh for just using some different textures.
[Download]
[Notes]
The ADD-ON Packs #1-4 were created by Chris Guinn. Stop by his site, Parallax 3D, and thank him for his awesome work!
I have not yet created the pilot model for this Starfury, so you will have to use my old one instead. I will upload the new pilot as soon as its done. For your convenience, you can grab a copy of my Starfury Version 1.0 here in LWO format!