[Introduction]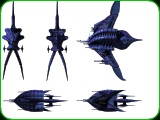 Minbari Sharlin
Warcruiser 5-View
The Minbari Warcruiser has been a part of the B5 universe from its beginning, as it apeared for the first time early in season 1. The Minbari played an important role in the plot that early on because of the recent war, and a lot of thought and effort was spent on designing the various aspects of their culture, which their spaceships are an important part of (from the view of us, the viewer). This carefull design pays off - the Minbari vessels are among the most stylish ships ever created for B5, although many people accuse the first season of lacking rafinesse in many of its designs.
I built this model in late 1998, after a long break from B5 modeling, as a kind of comeback. Much attention was spent on texturing it, and although I might do a much better job this time around, its still an excellent model as it is, and among the very best of its kind. I created it because of the need for a good Sharlin model for my artwork and found none available, which was probably the most common reason for me to build models.
[Status]
I currently have no intention to model a new version of the mesh, as the inaccuracies are rather minor and the most notable ones are caused by the the textures. I still find it is currently the best looking version of the mesh I have seen on the internet, so an update is not likely to happen anytime soon.
[Download]
[Notes]
The archive is still the same as distributed in 1998, except for a slightly updated readme, a link to my site, a rendering of the model and the added password protection. If you already own an old version of this model there is no reason for you to download again, except maybe if you lost the archive and want to keep it as a backup.