[Introduction]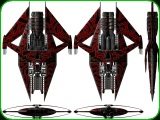 Narn Heavy Cruiser 5-View

I guess this is what many have been waiting for, the Narn Cruiser was, and judging from emails I recieved still is, the most popular B5 clone I have built. It was one of my first projects, dating back to my 3D Studio days, but I started it all over in LightWave and actualy only came to release it after a couple of other meshes.

The Narn Heavy Cruiser is my favourite ship from Babylon 5, except maybe for the Starfury, and I remember very good how my jaw hit the floor when I first saw this baby on TV... awesome! The design is so powerful, menacing and beautiful at the same time.

Now finally, after a long absence from the net, the model is availble for download from my homepage again!

[Status]

I currently have no intention to model a new version of the mesh, as until this day I have seen NO reference material that would show my model being inaccurate. The only thing I *might* change sometime is the textures, as the genericpanels texture I created for the model was the first one I ever tried, and looks a little lame compared to my newer ones. If you want to update the look of the model a bit (the difference won't be great, the original texture looks surprisingly good when rendered) you can use the gkane_genericpanels textures distributed with my newer models, and replace the older texture with it.

[Download]

[Notes]

The model was created in early 1997, and except for a slightly updated readme, this is still the same archive that was distributed on the net since July of that year. I have to mention Michael Stetson here though, since he built his mesh of the Narn Heavy Cruiser before I did, and it was an invaluable reference for me, even though I modeled mine completely from scratch (I already had a half finished 3DS version before I switched to LightWave actually) and my model is quite different from his in many of the details (and actually more accurate).